As we embark on a new decade(!), the Ecosystem Support Program team wanted to speak to some of the recent growth, transition and learning around the program, and share details of our 2019 financial allocations.
What is ESP?
The Ecosystem Support Program (ESP) is the arm of the Ethereum Foundation focused on providing support to teams throughout the Ethereum ecosystem. This includes financial and non-financial support. ESP is an expansion of the Grants program, which previously focused primarily on monetary support.
Improving Our Processes
The 2019 Ethereum Foundation Spring Update first previewed some of our plans for evolving from Grants to ESP. Since that transition, we've continued to award straightforward grants, and helped make connections to other potential sources of funding where an EF grant was not a fit. We have also facilitated advice from industry experts, community exposure, access to cloud services and other infrastructure, and more.
Over the last nine months we've incorporated feedback to refine our application process and made a number of changes, including:
A standardized process for reviewing ESP applications
An expanded group of domain experts available to help with peer review of applications, or to advise applicants on their projects
Increased focus on providing applicants with 1:1 feedback
Worked more closely with accepted projects to create clearer goals, roadmaps, and mutual expectations
Expanding Communications
With these stronger processes in place, we're making an effort to increase visibility and to attract more high-quality applications. To that end, we're making some changes to how we communicate, from improving existing channels to adding some shiny new pages to the ESP website.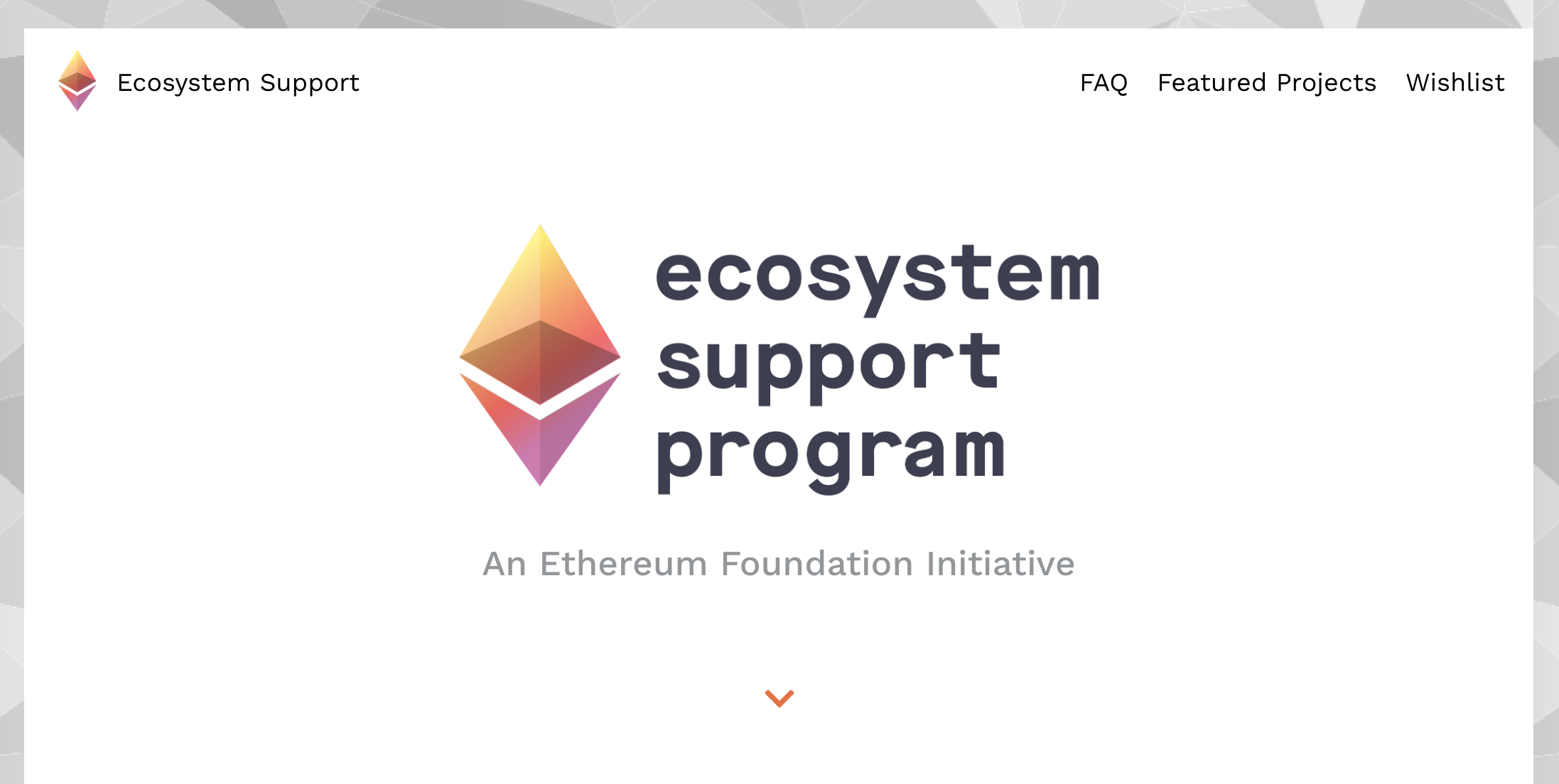 Some changes are modest, but we hope that they'll be helpful in both keeping the community informed and better preparing potential applicants. On the front page you can now follow the latest news about ESP and see which events we'll be participating in, whether virtually or in person following the current and ongoing health crisis.
We've added to our FAQ, improved our inquiry forms, and most importantly debuted some new page banners that we think really tie the room together 😎. Keep an eye out for even more additions in the coming months, and regular updates to existing content!
We've also added a Wishlist to bring attention to specific areas like security, Eth2, and privacy, where we'd like to see more applications. This list is not a declaration of what's important to the ecosystem, or even a statement of ESP's priorities. However, we hope the list serves as inspiration for anyone looking to get involved! As always, we want to strike a balance between demonstrating the range of efforts that ESP supports while also embracing potential contributors working outside of the specific areas we've defined.
On the reporting front, we will be publishing regular blog posts to announce new grant recipients, but a grant is only the beginning. Moving forward, we'll also be highlighting what supported teams go on to accomplish. On the new Featured Projects page, we'll spotlight projects that are months or years into the work that was enabled by those grants. We'll also use our blog and expand our use of social media to celebrate grant recipients as they achieve milestones and make progress toward their goals.
Financial Support in 2019
While we worked to improve the Ecosystem Support Program throughout 2019, we continued to support projects across the ecosystem. Awarding grants is only one way that we provide that support. There are many amazing teams that aren't EF grant recipients, either because they're already funded or because their particular focus is just not the right fit for EF funding. However, we work to support these vital contributors in whatever way we can (for example, as a bridge to new opportunities or as an amplifier of network effects for their projects).
That said, financial support continues to be a major part of how we support the broader Ethereum ecosystem. Over 70 projects received financial support in 2019. What is listed below details newly distributed grants to teams in 2019. It does not include recurring support, tranches for newly achieved milestones from prior recipients, or funding for other EF teams. For more details on all of the Foundation's work, we'll share a 2020 Spring Update in the coming days.
We're including names and summaries for each funded project below. You can find a searchable spreadsheet including links to learn more about individual projects here.
Ethereum 2.0
Ethereum 2.0 development is in full swing, with many teams working together to make Ethereum more scalable, resilient, secure, and of course introduce Proof of Stake! We've helped to fund a diverse bunch of 2.0 clients, as well as efforts toward interoperability, improving reliability and creating developer tooling. In addition to the grants listed below, Ethereum 2.0 work has been supported through recurring funding and other channels.
Eth2 Clients: $1,695,000
Eth2 Tooling & Other: $1,459,000
Eth 1.x: $487,000
Vital work continues on improving Ethereum as it exists today, with upgrades being worked on by 1.x contributors to help improve Ethereum in the immediate term. Focused upon areas include Stateless Ethereum, improving developer experience, increasing node client diversity, ensuring that running a full node remains sustainable, and preparing a path to the 2.0 rollout. As with Eth2, these are just the allocations that took the form of grants. We'll share more about other supported efforts - including Geth, additional 1.x and Stateless research, and more in later organizational updates.
Layer 2: $1,211,000
Layer 2 solutions enable a wide variety of applications that might otherwise be too expensive, slow, complicated, or just not possible to implement directly on the Ethereum base layer. 2019 was an exciting year during which teams and individuals across the community came together to make huge strides toward making Ethereum more useful and scalable. This work is crucial in the near term, but just as valuable for the future. Eth 2.0 will still benefit from the enhanced privacy, scalability, and flexibility offered by Layer 2.
Cryptography and Zero Knowledge Proofs: $426,000
There's more work than ever going into research and development on cryptography and zero knowledge proofs. These efforts strengthen the fundamental building blocks of the protocol, opening up new possibilities for scaling, privacy, and security. 2019 was all about practical steps forward, with tools being built that make advancements more accessible to developers without requiring an advanced understanding cryptography.
Developer Experience: $1,322,000
Ethereum opened up a whole new design space for applications. As developers have explored this space, inevitably they've discovered new pain points and required new tools. We're making significant investments in enhancing developer experience on Ethereum, from improving the range of programming languages, software libraries, dev tooling, node infrastructure, decentralized storage, messaging, and more. These advancements enable developers to do more, more easily, so they can focus on their products rather than on building their own custom tooling. Ultimately we want it to be easy - and fun - to build on Ethereum.
User Experience: $213,000
We're always on the lookout for universal tools and upgrades that reduce friction for the end user without compromising decentralization or any of the other things that make Ethereum special. Addressing common pain points like gas costs, identity management, address readability, and interoperability makes it easier for dapp developers everywhere to onboard users.
Community and Education: $422,000
Simply put, Ethereum wouldn't exist without its community and the people that work to grow and enrich our ecosystem. These teams bring people together both in person and online, increase the diversity of our global community, and help to build a universal knowledge base by making educational materials free and available to all.
Indirect Funding $484,000
A new kind of ecosystem needs new ways of thinking about funding! The Ethereum ecosystem relies on open source developers and independent thinkers to thrive. To this end, we look to support novel ways of funding talented contributors outside the traditional structures of companies and organizations; grants and VCs; contracts and salaries. This category is all about entrusting resources to the community.
---
We're proud of everything our 2019 cohort accomplished, and we're forging ahead in 2020 with renewed energy and purpose. As always, big thanks to the community for your passion and support, and we look forward to keeping you up to date with the latest from the ESP team! 🦄