The progress being made in the Ethereum ecosystem lately is really inspiring. Whether you're excited by the adoption of proof of stake (and a faster, more secure, greener Ethereum), the coming Merge and other big upgrades, or by some of the many applications and solutions that have the power to change diverse industries, it is a great time to be a part of the Ethereum community.
Our evolving role
While we are all excited about the growth of Ethereum and the future that our collective work can help to create, I am also often asked about the role of the Ethereum Foundation and how our philosophy of subtraction fits into that future.
"Society grows great when old men plant trees whose shade they know they shall never sit in." - anonymous Greek proverb
When we think about creating a real and lasting impact, one that outlives all of us personally as well as our organizations, it becomes important for us to subtract where we can so that the ecosystem - the Ethereum garden - can sustainably exist and thrive without relying too much on EF or any other entity.
However, we also understand that there are many things that will not happen organically until the garden matures. Someone needs to plant seeds, others need to water them. And we take care of the weeds when things block healthy growth in the garden. We care not only about longevity, but also about the health of the Ethereum garden so that Ethereum stays "Ethereum".
Seeking opportunities within the bigger picture
In pursuing the longevity and health of the ecosystem, I always encourage our team to zoom out and look at the bigger picture, as we consider which of the outstanding tasks only EF can do. One of the questions I often ask is: "Are we looking at the users who would most benefit from Ethereum?"
Developing countries today account for over 80% of the world's population, and of about 400,000 of babies born every day around the world, more than 360,000 are born in developing countries. People in developing nations represent not only our future as a people, but they may also represent the next billion active users of Ethereum. That means new generations of developers that together make Ethereum's tomorrow more resilient and stronger. In addition, Ethereum's capability to enable trust, transparency, efficiency, and coordination has high potential in developing countries where these characteristics are often in short supply. It is in this context - an overlap between opportunities, impact, and potential for Ethereum - that the Ethereum Foundation Fellowship Program was created.
Meet the EF Fellowship Program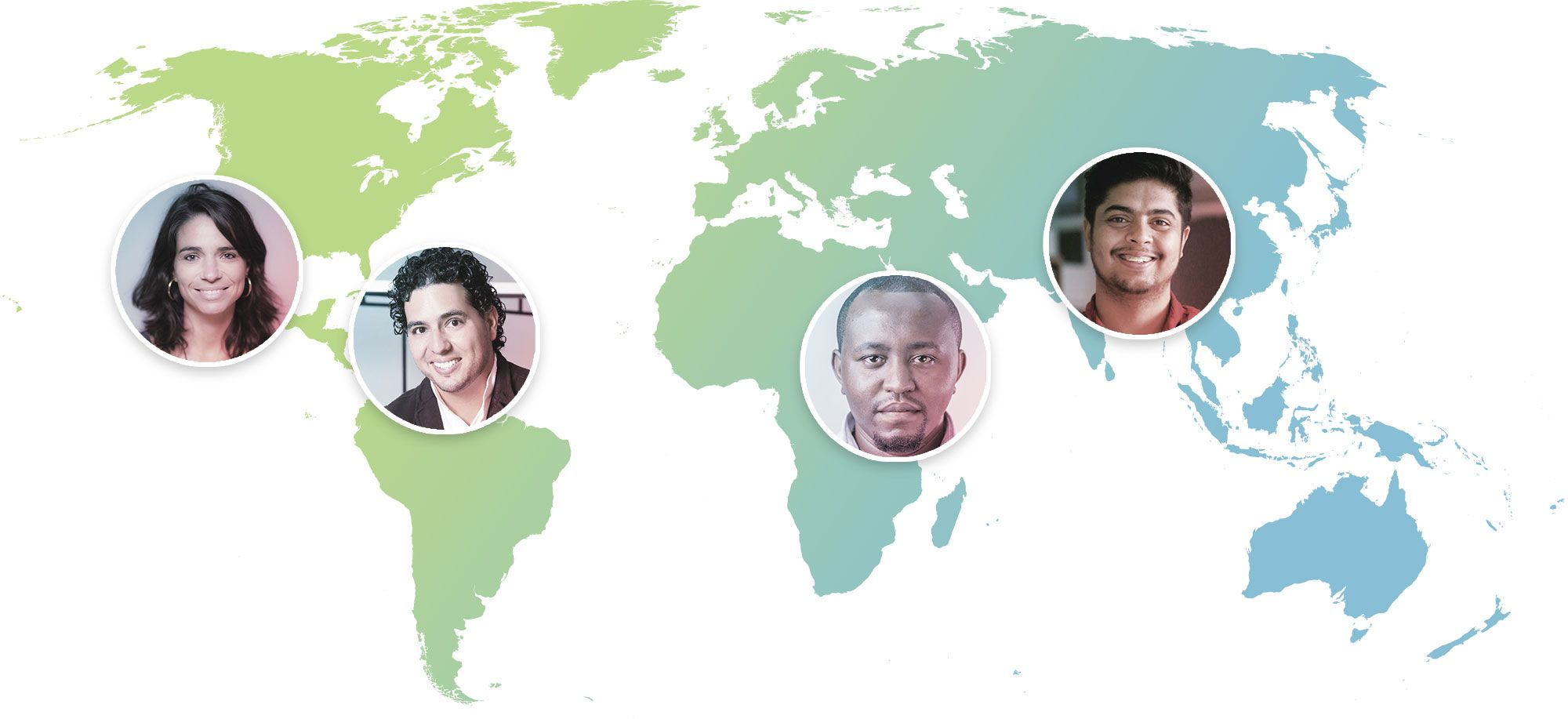 The Ethereum Foundation Fellowship Program is a pilot project that has been launched by Next Billion, a team at EF that focuses on seeking opportunities in emerging economies. The EF Fellowship Program provides us an opportunity to work with change-makers, whose projects have high potential to create impact in emerging economies by using Ethereum. The program features a unique experience that includes mentorship, expertise and access to leaders in the Ethereum ecosystem.
How is this different from regular grant support? Our vision is not only to support these specific projects, but to create a ripple effect. We hope others will learn from the work of this cohort, and be inspired to do similar work in their own communities, or even to create upgraded solutions.
Our inaugural cohort
Benson Njuguna (Acre Africa) is working to implement blockchain solutions to a microinsurance product that protects thousands of small-scale farmers in Kenya from extreme weather events. His project will test and showcase Ethereum's potential to enable the viability and sustainability of products and services that target the bottom of the wealth pyramid.
Chuy Cepeda (OS.City) provides municipal and national governments a platform to easily issue digital identities and blockchain-based documents to their citizens, with a vision to one day hold government-issued documents (like permits and IDs) in our Ethereum wallets. During the Fellowship Program, he and his team will work with the government of Argentina and create strategies to advance the meaningful adoption of blockchain in the public sector in Latin America.
Kuldeep Bandhu Aryal (BRAC) will develop a blockchain and crypto strategy for BRAC, the world's largest NGO. Based in Bangladesh, BRAC serves over 100 million people annually. Kuldeep's project involves multiple experiments using blockchain, and it could serve as a model for other social enterprises, and for the development sector at large.
Naroa Zurutuza (Giga) is exploring Ethereum-based solutions as part of Giga's effort to connect every school to the internet. By helping to provide today's most important public good to billions of currently unconnected people, Naroa is envisioning many roles that blockchain can play, from increasing the accountability of service providers and financing connectivity infrastructures, to an access point to the global economy and marketplaces.
Stay informed and involved
While starting small and as an experiment with this pilot class, this program is also a new strategic avenue for EF to allocate resources to regions that are still blue ocean for the future of Ethereum. The issues being focused upon have large and long-term implications on Ethereum's value as something that can achieve public sector adoption while helping to bring about financial inclusion, positively impacting the fight against climate change and more.
We are excited to start working with Benson, Chuy, Kuldeep and Naroa for the pilot year of the Ethereum Foundation Fellowship Program as they bring Ethereum to their projects over the coming months. Congrats to Taira Ishikura and Serena Tan from the Next Billion team on the launch, and we would also like to say special thank you to those who helped us identify candidates.
We're looking forward to working with other community members in supporting these Fellows, and if you would like to stay connected with the Fellowship Program or any of the Fellows, please sign up to stay informed here, or contact the team at fellowship@ethereum.org.