Since returning from the Amphora merge workshop, client teams have been hard at work implementing the latest versions of merge specifications and testing them on devnets.
After four ephemeral devnets, Kintsugi 🍵, a longer-lived public testnet, is now live!
Although client development and UX continue to be refined, we encourage the community to start using Kintsugi to familiarize themselves with Ethereum in a post-merge context. For application developers, as previously explained, not much will change. Tooling which only interacts with either the consensus or execution layer is also largely unaffected. Infrastructure which depends on both layers is most likely to need to adapt to support The Merge.
We recommend most projects begin testing and prototyping on Kintsugi to surface any potential issues soon. This way, changes can more easily be incorporated in future client and specification versions.
Using Kintsugi
Check out the Kintsugi landing page for information about interacting with the Kintsugi network. You'll find network settings, a faucet, a block explorer and a JSON-RPC endpoint, along with documentation updated to reflect supported consensus <> execution layer client combinations.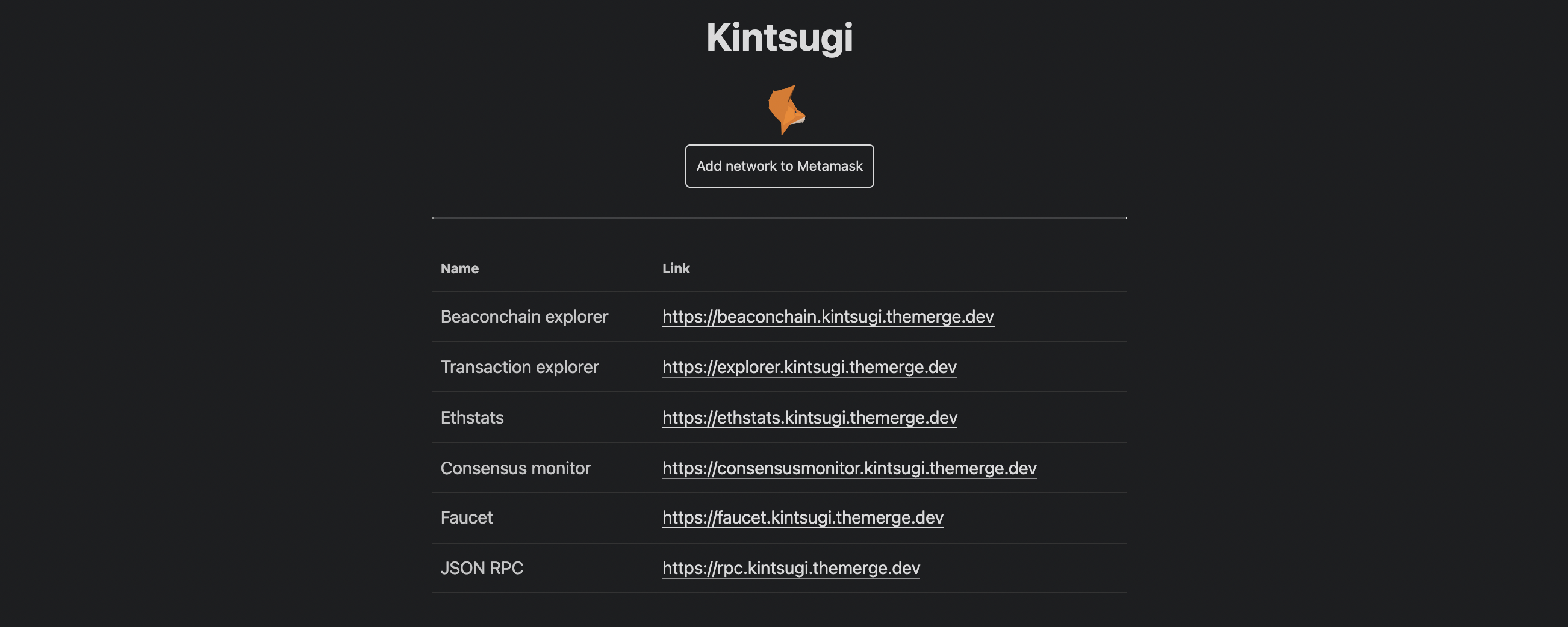 As a reminder, post-merge, a full Ethereum client is comprised of both a Beacon / Consensus node and an Execution engine (handled by an existing "Eth1" client). Both layers maintain independent API endpoints and peer connections to handle their respective role. For a full overview of Ethereum's post-merge architecture, see this post.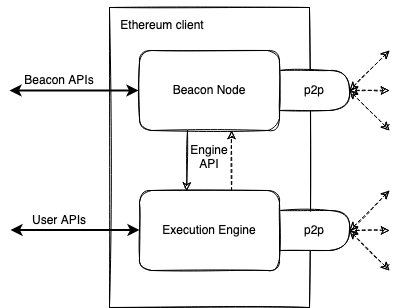 Support & Feedback
The EthStaker community is available to provide Kintsugi support. If you have questions, encounter errors or need clarifications, they are happy to provide assistance in the #testingthemerge🐼 channel of their Discord server.
With the launch of Kintsugi, we hope the community gets involved #TestingTheMerge. Check ou this list of test scenarios for ideas on how to bring your testing to the next level.
If you identify bugs or issues with the specification, the best place to raise these is in the #merge-general channel of the Ethereum R&D Discord server. If you'd rather not use Discord, other venues to raise such issues are the specification repositories (consensus, execution, APIs), and Ethereum Magicians ✨.
Next Steps
The Kintsugi testnet provides the community an opportunity to experiment with post-merge Ethereum and begin to identify any issues. Once feedback has been incorporated into the client sofware and the specifications, a final series of testnets will be launched. In parallel, testing efforts will continue ramping up.
After this, existing long-lived testnets will run through The Merge. Once these have upgraded and are stable, next up is Ethereum mainnet's transition to proof of stake 🎊.
For those eager to follow the progress at a more granular level, a mainnet readiness checklist is publicly available and regularly updated.
See you on Kintsugi 🍵!